Buying a Commercial Office Workstation? Read this before you take the first step
So, the office furniture buying process has started. You are going through reams of product catalogues, meeting a ton of sellers and even conducting quite a few meetings to see what type of furniture will work for you. That said, do you have defined metrics to make the right decision?
The school of thought that includes deliberately structured thinking is derived from the field of science and finance. For each decision, if you don't have a defined set of KPIs or variables, how will you even ensure that the decision is right? This is where we come into picture. Whether you are planning to buy a 2, 3, 4 or 6-person office workstation or buy office workstations for all your employees, we will help you throughout the process.

Here are 5 key indicators that show the piece of furniture you are trying to evaluate is a high quality commercial office workstation, also makes business sense:

Qualities of a commercial office workstation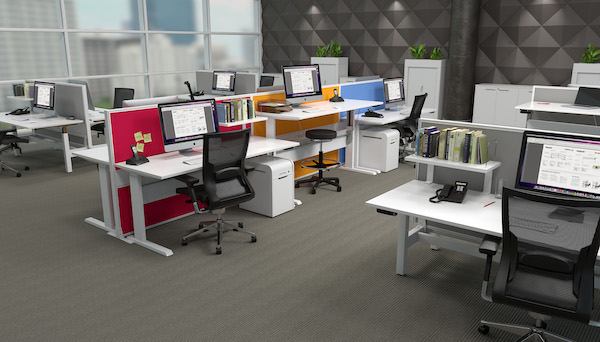 1. The furniture will satiate all the needs of your employees in terms of functionalities.
Want to know a little secret? People buy features, not products. The same applies to your furniture as well. Ideally, you should have conducted a research to see what type of functionalities your employees need from their respective furniture. Once these functionalities are known, all you have to do is rank them in the order of the most common ones.

2. The ideal office furniture will be built from quality material.
This might seem obvious, yet it is the second most important thing. When you are buying back to back office workstations you have to ensure that the quality of the furniture is up to the mark. You should not judge quality based purely on how it looks or feels, but instead inquire more about the expected lifespan of such materials and the frequency of servicing the material of the furniture will require.

3. The ideal office workstation furniture will fit well into the space plan you have built.
Before you start filtering and selecting furniture, you should have a space management plan in place. We provide businesses with a free space planning consultation session. This helps businesses extract maximum value when it comes to office space utilization. We also provided businesses with a free office design consultation session, to ensure the aesthetics are taken care of.

Sometimes, it might make intuitive sense to buy bigger pieces of furniture in order to have a scope of expansion using the same set of furniture. That said, this should be based on an exact calculation and expected growth of the business. If you are expanding your engineering team over the next few years, it would make no sense to buy more office desks for the accounting team.
4. Well-built workstations provide ease of expansion.
One of the biggest problems with esoteric designs in the office furniture space, is that once you have bought specially designed furniture only on the grounds of aesthetics – you can never turn to normal, ready-made furniture or you will end up with office design disasters.

This problem is solved by ready-made office workstations that are well built. The design will be simplistic and yet fulfilling, to ensure you can replicate it when expanding your team and buying new furniture.

5. Good office workstations have great usable lifetime value.
This is a metric which encompasses everything you have analysed so far. In the end, you should be able to gauge the lifetime costs of the furniture, keeping in mind the value it will bring if it is maintained well, it will increase productivity, decrease repair costs and push the replacement time further.