Top buying points your office workstations supplier wants you to be aware of.
After years of experience in helping businesses understand how to buy office workstations effectively, we have understood that there lies a wide gap in the way the products are sold and the way the products in the office furniture industry are bought. Meaning, the perception of the very same products is different in the supplier's mind than the same in the buyer's mind.
So, here are six things that your office workstations supplier will want you to know, if she wants you to benefit immensely from the purchase:
Here is what is in your Office Workstations Supplier's mind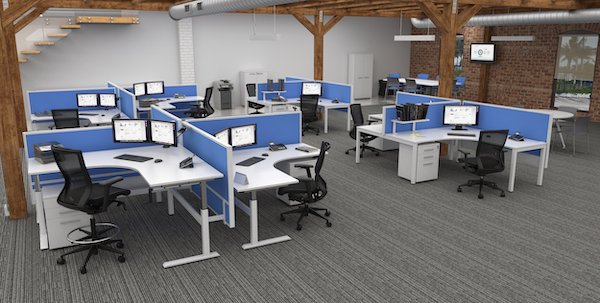 1. If you don't start with understanding the needs of your employees, you have already increased your costs.
This is the number 1 thing your office workstations supplier would want you to be aware of. In an ideal scenario, the office manager, or whoever else is responsible for making the decision, should know about the needs of the employees.
For instance, if employees are working on individual projects that may not necessarily intersect, it does not make sense to have an open office space since it will only create increased distractions. Hence, before you get started with the purchase, make a list of the functionalities and features that you are seeking from the furniture.

2. Plan for design and space before you get started with the purchase.
Office space is very limited, but the employees will still need a desirable workspace. In order to manage this, you should have a plan in place that helps you maximize the office space utilization, while still ensures that the aesthetics are maintained. We can help you with this. At the very beginning of the furniture buying process, we start with giving a free office design consultation session in Melbourne CBD followed by a free office planning consultation session.

3. You are buying a 'fixed' asset.
This, by definition, it would mean that the furniture should last for a long period of time. Beyond the accounting treatment, it should help your business in the long run. Thus, it will make more sense for you to buy relatively expensive furniture, if it increases employee productivity and brings down repair costs. Hence, the time horizon in your head, when you're buying office workstations in Melbourne, should not be this financial year – but at least half a decade beyond that.

4. Taking care of your office workstations starts with the right installation.
If you mess up with the installation, even the finest quality of office furniture will eventually break down way before its normal usable life. This is because mis-installed furniture leads to greater pressure on the structure of the piece of furniture itself and increases its risks of breaking down. This is why, for a nominal charge, we send the finest servicemen to your office for installing the furniture.

5. It's easy to sell quality furniture. It's difficult to provide timely delivery.
There are several businesses selling office workstations. That said, not all of them have a great quality of service. This is because not all of them can deliver a 2, 3, 4 or 6-person office workstation on time. Delivering furniture is an expensive task and often requires a great degree of expertise.

Hence, we provide you with free delivery across all major business districts in Australia. You can now focus on growing your business, instead of worrying about the delays in delivery.

6. Real value is added in counselling a customer.
Finally – there has to be someplace where your office workstations suppliers can provide you with more relevant information, than a simple Google search. In order to do this, we provide you with a dedicated account management team, that will be always at the helm to help you out.