Office workstations furniture, just like your business challenges, come in all shapes and sizes. If you don't make sure which ones you're picking up, you are inviting headache.
Getting the right office workstation can make or break the productivity peaks you're expecting from your furniture purchase. There are not many office managers who proactively think about the impact the new office furniture will have on the company's top line, beyond the increased short term expense.
So, here is an all-inclusive guide for you to decide upon what type of office workstations will you need:
Below are ways to find out the best office workstations furniture for your business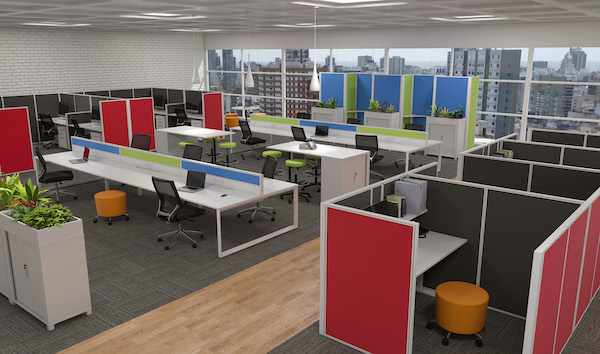 1. Like all other advises we have offered – always start with mapping the needs of your employees.
Office furniture is a part of the working ecosystem you're providing your employees and hence it is critical for you to ensure it is conducive to their productivity. The only way you can ensure is this is by asking the people who will use the furniture the most – your employees.

Take, for instance, this – if your office has a long working culture or if you are running a 24 x 7 office, your employees must be working through very long shifts. If you ask them about their health and how do they plan to maintain/work on it, you will find blank faces. If, as a company, you decide to buy a few sit-stand desks, not only will it directly help them take care of their daily health, it will also show them that you care.
Besides, getting new office desks or sit-stand desks, will always cost less than launching a new corporate marketing campaign where you try to position yourself as the 'employer with a heart'.

2. Plan, plan, plan and then plan some more.
Office workstations furniture seem very simple as structures, and in reality they are simple. But when your end goal is to connect a bunch of 2, 3, 4 or 6-person office workstations, things can get out of hand very easily, if not planned properly.

Real estate space is shrinking globally and the only way to expand is to buy more real estate or shift to abysmal locations. Both these expenses don't provide any immediate benefits to growing businesses. This is where planning helps. First, you start with an interior design plan where you are able to see what is it that you badly need in your office. Then, you create a space management plan where you see how to fit all of this in your office in the most optimal way possible.

You don't have to worry about any of this, as far as you have us. We provide a free office design consultation session and a free space planning consultation session.

3. Now lay out your options and rank them.
Most of the people start with eliminating options and then getting to ranking. This is a really arbitrary way, under which you might overlook some really good options. So, rank all the options you have in front of you – sit-stand desks, connected work stations, singular workstations, back to back office workstations, height adjustable workstations and other products, either ready-made or made to order custom made office workstations