Are you planning to buy office workstations for your growing business? Then you must be going through the classic dilemma – should one go for the ready-made or should one get them custom made office workstations? By the end of this blog, you will have a definitive answer for the same.

Planning for office workstations is not an easy task. You have to have a very deep understanding of the business' requirements and the needs of your team members. In addition to this, you also have to go through the constraints such as limited space and growing people capacity. Hence, factoring all of this together, here is how you can decide whether to go for readymade or built to order workstations:
Ready-made vs custom made office workstations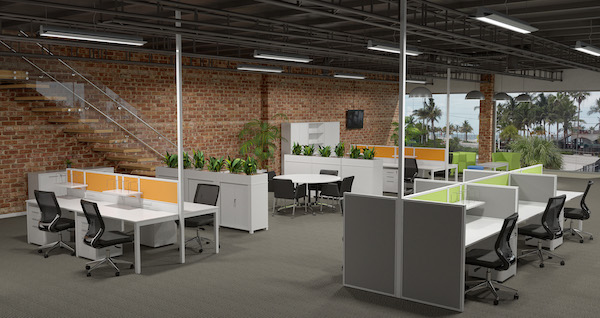 1. Decide the top priorities for your business.
Everything eventually comes down to only one question – does this make sense in the context of the business? You will be well aware of the needs of your business and what are the top priorities. For instance, a company that is growing very aggressively will be planning to buy 2, 3, 4 or 6-person office workstation instead of getting everything designed in a custom way, since they cannot afford to lose even a day's work.
Thus, first and foremost, understand the needs of your business and prioritize them. Usually, built to order workstations takes time and have increased costs. It may satiate some very specific needs if you have any. Ready-made office workstations not only provide standardized quality but also saves you time and money.
2. Define the problems you are trying to solve with your office workstations.
Successful business operators understand those office workstations plays a critical role in the success of a business. They have a direct impact on the employee productivity levels and help the business navigate through the constraints of space, while still ensuring the work culture remains fresh due to the workstation designs.
So, sit back and zoom out to understand what problem are you targeting with the new office desks. For instance – are you trying to help the employees take care of their health while they are working long hours? If your answer is yes, you might be planning to buy sit-stand desks for them.
If you are trying to simply save space and focus on productivity enhancement, at minimal costs – you should go for readymade workstations that can be arranged to optimize space usage.
If this sounds confusing to you – don't worry. We provide you with a free office design consultation and a free space planning consultation as well. This way, you will also know how to target the problems with the right type of workstations.
3. Have a plan in place to save costs.
When everything is about taking a strategic view, is there even a way to save costs? As it happens – yes. Just because you are taking a long term view, does not mean you don't take a look at how do you plan to save costs. Just understand the fact that this cost saving has to be more systematic and less idiosyncratic.
For instance, you should have a plan in place to get your workstations installed the right way. If you are buying custom made office workstations, installation will not be an issue since everything is built as per the measurements. That said, if you are buying ready-made workstation desks, you should be very particular with the installation. This is the exact reason why we send some of the best servicemen in the industry, at a nominal fee, to install the workstations at your office.
In Conclusion
If your business needs very specific and unique features from the workstations, can afford to pour more time & money into buying workstations and you are targeting some problems unique only to your office, with the workstations – then it would make sense to go for built to order custom made office workstations. Even if one of these criteria is not satisfied, you should seriously consider ready-made workstations.